Last Updated on February 22, 2022 by Guillermina
Some may ask, "How are Sour Patch Kids vegan if they have gelatin?" or "Why are Sour Patch Kids vegan?" The prime factor and answer, of these questions, lies in the Sour Patch Kids ingredients. Though Sour Patch Kids does not hold any notable animal-based ingredients, which may absolve many a vegan to give them the go-ahead signal, the processes used to obtain the creation of Sour Patch Kids is not vegan-conscious. Many a vegan has turned to products that are organic, and you may be wondering if there are organic Sour Patch Kids (there aren't), in order to avoid harmful processes used in the production of foods we've grown up eating. At such time, it is up to the vegan in question whether they wish to Sour Patch Kids knowing this information. Many choose to, some don't—it's all up to the vegan and how they choose to proceed.
As we continue on through the article, we'll be providing vegan, and usually healthier, alternatives to Sour Patch Kids that can easily be acquired at Thrive Market, Whole Foods Market, Sprouts, and occasionally local grocery stores. 
Sour Patch Kids Alternatives
SmartsSweets, Sour Blast Buddies
Available in a range of flavors including Orange, Lime, Blue Raspberry, Lemon, and Berry, these Sour Blast Buddies by SmartsSweets are plant-based and vegan-friendly. Each bag is only 100 calories and 3g of sugar while being nutritionally packed with 13g of fiber! SmartsSweets is dedicated to the removal of sugar alcohols, artificial sweeteners, and added sugars, so this sour candy boasts 91% less sugar than other sour candies. 
Find It Here:
SmartsSweets, Sourmelon Bites
Get your sour and melon tastebud-craving kick with these Sourmelon Bites by SmartsSweets! Every bite will have your mouth puckering and tastebuds squeezing in joy. This sour candy has 46% fewer calories than other watermelon slices and 91% less sugar too! SmartsSweets has designed their candies to be not only nutritious, plant-based, and healthier than their competitors, but also free of all major allergens like tree nuts, wheat, milk, peanuts, eggs, shellfish, soybeans, and fish! 
Find It Here:
YumEarth, Organic Sour Giggles Chewy Candy Bites
Including flavors like sour grape, sour orange, sour lemon, and sour green apple, these Organic Sour Giggles Chewy Candy Bites by YumEarth are 100% vegan, gluten-free, organic, and non-GMO. YumEarth has taken it upon themselves to create an allergen-free candy, without artificial dyes or high fructose corn syrup, that is still 100% delicious and has you coming back for more it tastes that good! 
Find It Here: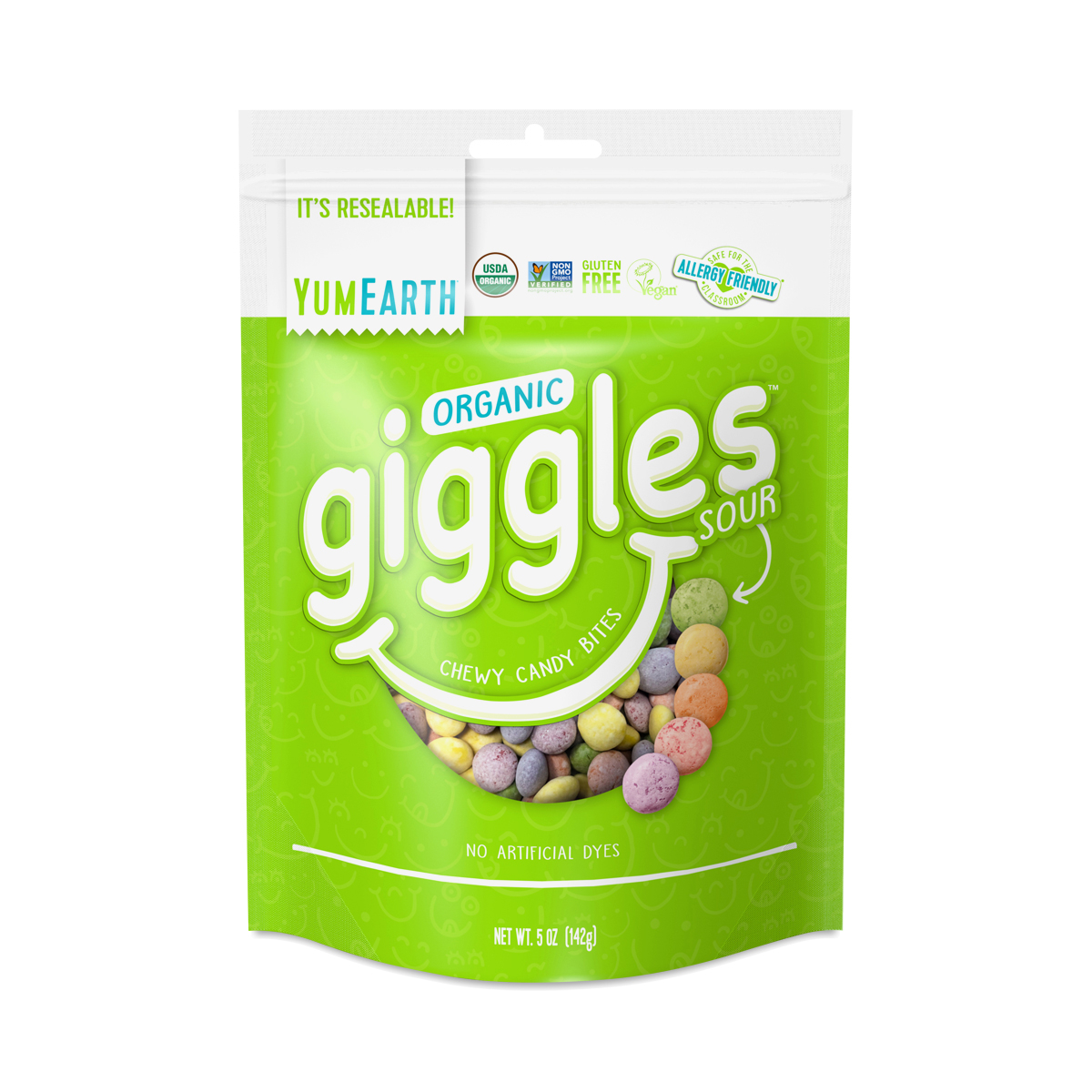 Herbaland, Pre Workout Gummies, Sour Blue Raspberry
For all the fitness junkies that like a puckering sour taste with their prework, Sour Blue Raspberry Pre Workout Gummies by Herbaland are just for you. Vegan, gluten-free, non-GMO, and low in sugar, these pumped sour gummies are formulated to boost energy for improved athletic performance. Using scientifically-proven ingredients like caffeine, niacin, BCAA, beta-alanine, and l-citrulline, these pre-workout gummies are only 70 calories per bag and contain only 1g of sugar, are sure to drastically improve your training sessions. 
Find It Here:
BEAR Snacks, Strawberry Lemon Sour Yoyos
These Strawberry Lemon Sour Yoyos by BEAR Snacks are wholly natural, containing no added sugar or preservatives, using only six ingredients that include: pumpkin, lemon, strawberry, apple, pear, and black carrot extract. That's it! No additives or nasty filler ingredients here! A sour candy packed with fiber and vitamins, this vegan sour candy is great for kids and adults alike! 
Find It Here: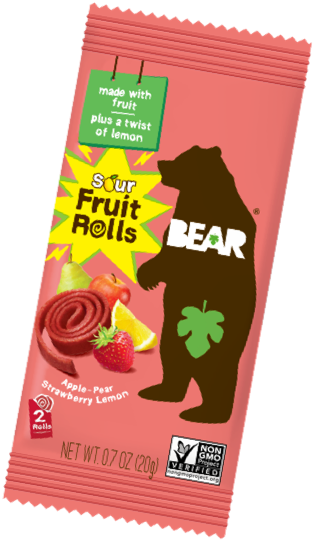 Project 7, Sour Fruit Gummies
Only 3g of sugar, 6g of NET carbs, and 60 calories per bag, these Sour Fruit Gummies by Project 7 are flying off the shelves in droves! Denying the usage of artificial sweeteners, colors, preservatives, and flavors, these Sour Fruit Gummies are 100% plant-based and mouth-puckering sour. Made keto-friendly, Project 7's Sour Fruit Gummies are free from sugar alcohols, inulin, IMO, and maltitol, and pack a punch of 19g of fiber per bag! 
Find It Here:
Project 7, Sour Apple Rings
Notably, the only available low-sugar apple ring on the market, these Sour Apple Rings by Project 7 are packing a powerful punch of diversity and healthy, nutritious, change. Boasting 18g of fiber per bag, 3g of sugar, and 6g of net carbs, this sour vegan candy is only 60 calories per bag. 
Find It Here:
Project 7, Sour Gummy Worms
Low in net carbs, calories, and sugar, these Sour Gummy Worms by Project 7 are just the sour vegan candy you've been searching for. With 19g of fiber in each bag, these Sour Gummy Worms have been mastered without artificial ingredients! In fact, these one-of-a-kind sour candies are made solely with natural flavors and colors—-no artificial colors, preservatives, fillers, or sweeteners! 
Find It Here:
Candy People, Vegan Sour Viking Gummy Candy 
Candy People's Vegan Sour Viking Gummy Candy holds the power with its orange, cherry, pear, lemon, strawberry, and black currant sour gummy flavors. Gelatin-free, this candy is 100% vegan and gluten-free, made without any synthetic colors or high fructose corn syrup. The Sour Viking candy is inspired by Scandinavian tribes that originated and thrived in the Viking age. 
Find It Here:
Conclusion
Did you find this article informative? Make sure to leave a comment below to tell us what you think or if you have any questions. Don't forget to share this informative article on "Are Sour Patch Kids Vegan?". 
Tag us on social media to show us which vegan alternative to Sour Patch Kids you picked to get your favorite pucker face! Make sure to share this article, and its inclusive healthy vegan sour gummy options, with a friend or family member to spread the love (and the funny puckered faces)!
Learn more about How Long Does Vegetarian Chili Last In The Fridge?
FAQs
sour patch kids ingredients
Sour Patch Kids ingredients include: SUGAR,INVERTSUGAR,CORN SYRUP,MODIFIED CORN STARCH,CONTAINS LESS THAN 2% OF TARTARIC ACID,CITRIC ACID,NATURAL AND ARTIFICIAL FLAVOR,YELLOW 6,RED 40,YELLOW 5,BLUE 1.
organic sour patch kids
Unfortunately, at this time, there are no Organic Sour Patch Kids available.
why are sour patch kids vegan?
Sour Patch Kids do not contain any animal-based ingredients, like geltain, but they do include non-vegan-friendly processes to make this product.
how are sour patch kids vegan if they have gelatin?
Sour Patch Kids do not contain gelatin.