Last Updated on January 17, 2022 by Guillermina
Is McDonald's vegan? Does McDonald's have vegan ice cream? Sadly, the answer is no. McDonald's is not very vegan-friendly. They don't have a vegan McFlurry to satisfy your late-night cravings either! Compared to other fast-food chains, McDonald's has been the slowest in adjusting to the plant-based frenzy to make vegan foods available to loyal customers. Recently, they have come out with a McPlant burger but it is only available in select locations…in the UK. There are, unfortunately, no plans made available to the public yet to make their McFlurry or ice cream vegan-friendly.
Proceeding through this article, I will provide fast food location alternatives to McDonald's that provide vegan ice cream along with vegan ice cream brands that can be found at your local grocery store. 
Why is McDonald's Ice Cream Not Vegan?
So why is McDonald's ice cream not vegan? To be blunt, McDonald's ice cream contains dairy. In this case, the dairy comes from cows making it not vegan. As a vegan, eating foods that come from animals is not considered being vegan. Eating eggs and dairy-based products are labeled as vegetarian. 
Fast Food Places That Offer Vegan Ice Cream 
KFC
Kentucky Fried Chicken or KFC has added Oatly's vegan ice cream to their extended array of products. Oatly is a vegan product like using oat milk to make their products instead of dairy from animals. At the moment, their vegan ice cream is only available in China.
Amy's Drive-Thru
This popular fast-food chain in the California area now offers a wide variety of vegetarian, vegan, and gluten-free options. They even have non-dairy milkshakes! The food looks too good to pass up if you're ever in one of their prime locations. 
Plant Power Fast Food
You have to check this place out! Fondly referred to as, "Plant Power", by locals, this fast-food chain is made purely by plants making it vegan and vegetarian-friendly. They also provide gluten-free options to boot! With 10 locations, this spot is not only a necessity to stop by if you're ever in the area but to make stopping by an absolute necessity I have three words…root beer float! And if that doesn't do it for you two more words…kombucha float!! If you've never had a kombucha float this is your sign to try one when you stop by a Plant Power Fast Food location. 
Next Level Burger
As the name suggests, this place is "next level"! With the goal of eliminating fast food chains with a penchant for using animal-based ingredients, this next-level fast-food chain knows what's up. They have vegan shakes that will rock your world!
Burger Lords
These Burger Lords don't play around! This Los Angeles micro chain is fully vegan, so don't worry about stressing over the menu picking out what seems vegan and what doesn't. Everything is plant-based! Try out one of their tahini milkshakes for a new ultimate milkshake favorite!
PLNT Burger
Are you looking for top-notch, quality fast food? That's vegan-friendly?? Then, PLNT Burger is for you. Founded by chef Spike Mendelson, seen on the hit show Top Chef, you won't be throwing taste and flavor out the window with his vegan fast-food chain. You'll be tasting it! Try out their oat milk soft serve ice cream with rainbow sprinkles added on top! 
Monty's Good Burger
If you're a Joaquin Phoenix fan, then you're gonna wanna check this place out. If you're not a Joaquin Phoenix fan, you're still going to want to check this place out! The vegan version of In-N-Out, Monty's Good Burger is all vegan and loaded with delicious, saliva-inducing food items, including their shakes, floats, and cookies! 
Vegan Ice Cream Brands
Oatly, Salted Caramel Frozen Dessert
Are you a sucker for caramel? What about oat milk? Oatly's Salted Caramel Frozen Dessert is your new vegan-friendly kryptonite on days those sweet cravings won't go away. Gluten-free, vegan, and free of glyphosate, the creamy consistency combined with the absolute undeniable flavor is going to hit home. 
Check out an example recipe here:
Wonderlabs Doozy Pots, Chocolate Mint Chip 
Wonderlabs Doozy Pots Chocolate Mint Chip, along with all of their other delicious flavors, is 100% vegan and made from plants using oat and hemp. The container is made with certified renewable resources. They have flavors ranging from Banana Cinnamon Date Swirl to Coffee & Cookies. 
Check out an example recipe here:
So Delicious, Cashew Milk Frozen Dessert, Peanut Butter Brownie Pint 
So Delicious boasts a line of different types of non-dairy-based desserts, including cashew milk, almond milk, oat milk, coconut milk, and soy milk. This Peanut Butter Brownie Pint made using cashew milk has brownie bits folded with creamy peanut butter to satisfy your chocolatey and peanut butter cravings. 
Check out an example recipe here: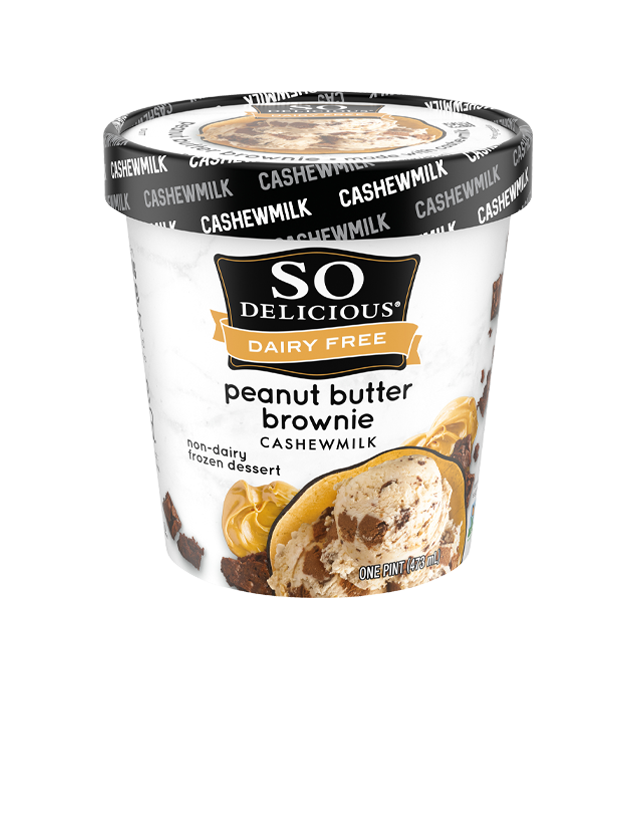 Ben & Jerry's, Non-Dairy Pints, Crème Brûlée Cookie
Certified vegan, Ben & Jerry's has done it again with their non-dairy pints! This Crème Brûlée Cookie pint is made using sunflower seed butter, upping the vegan dessert game with undeniable flavor! They have loads of other flavors like Phish Food and The Tonight Dough! 
Check out an example recipe here:
NadaMoo!, Peppermint Bark 
Unafraid of releasing new and unique flavors, NadaMoo! uses coconut milk to create their vast amount of vegan-friendly flavors that include Vanilla Cha Chai, Sweet Cherry Lime, and Java Crunch. This Peppermint Bark flavor is a seasonal necessity to bring true joy to your tastebuds. 
Check out an example recipe here:
Conclusion
Did you find this article informative? Make sure to leave a comment below to tell us what you think or if you have any questions. Don't forget to share this informative article on "Is McDonald's Ice Cream Vegan?". 
Tag us on social media to show us which Vegan Fast Food Joint you visited! Don't forget to tell us what your favorite vegan ice cream brand is!