Last Updated on October 15, 2021 by Guillermina
Who said salads have to be boring? Vegans have a reputation for loving their vegetables, especially in the form of salads. Caesar salads are flavorful, popular, and can be made vegan friendly – with a vegan Caesar dressing, of course.
What Is Caesar salad?
One of my personal favorites, Caesar salad is a simple salad with a very distinct dressing. Ingredients are as simple as romaine lettuce, croutons, and parmesan cheese, all tossed in the famous Caesar dressing. Its origins are from the Americas, and it has become popular all over the world.
What is Caesar Dressing?
The star of the entire salad, Caesar dressing is a unique combination of flavors that makes the entire dish. There are different varieties of Caesar dressings, but the core ingredients include:
Lemon juice
Olive oil
Egg
Worcestershire sauce
Anchovies
Black pepper
Garlic
Dijon mustard
Is Caesar Dressing Vegan?
By reading the ingredients above, there are a few that are clearly not vegan. Eggs and anchovies, a small fish, are the most obvious non-vegan ingredients. Worcestershire sauce contains fish sauce, making it not vegan as well.
While this may seem like a setback, there is no reason to fret. With the rise in popularity of plant-based eating, vegan salad dressings are no longer rare to find. Next time you're at the store, keep your eyes out for any of these vegan-friendly Caesar dressing brand options.
Best Vegan Caesar Dressing Brands
Daiya Creamy Caesar Dressing
Known to be free of dairy, gluten, soy, and eggs, Daiya makes an allergy-friendly Creamy Caesar dressing that is "an instant winner". The ingredients list is short and vegan friendly, as well as other common allergens. Available to purchase on their website and in some grocery stores near you, this product runs for $5.09.
Follow Your Heart Organic Caesar
Small batch and organic, Follow Your Heart makes a "creamy, rich and fresh" Caesar dressing. Certified plant-based, gluten-free, Non-GMO Project Verified, and Certified USDA Organic, this product is sure to cover your bases when it comes to being free from non-vegan ingredients. It can be found in specialty grocery stores, like Wholefoods and Fresh Thyme.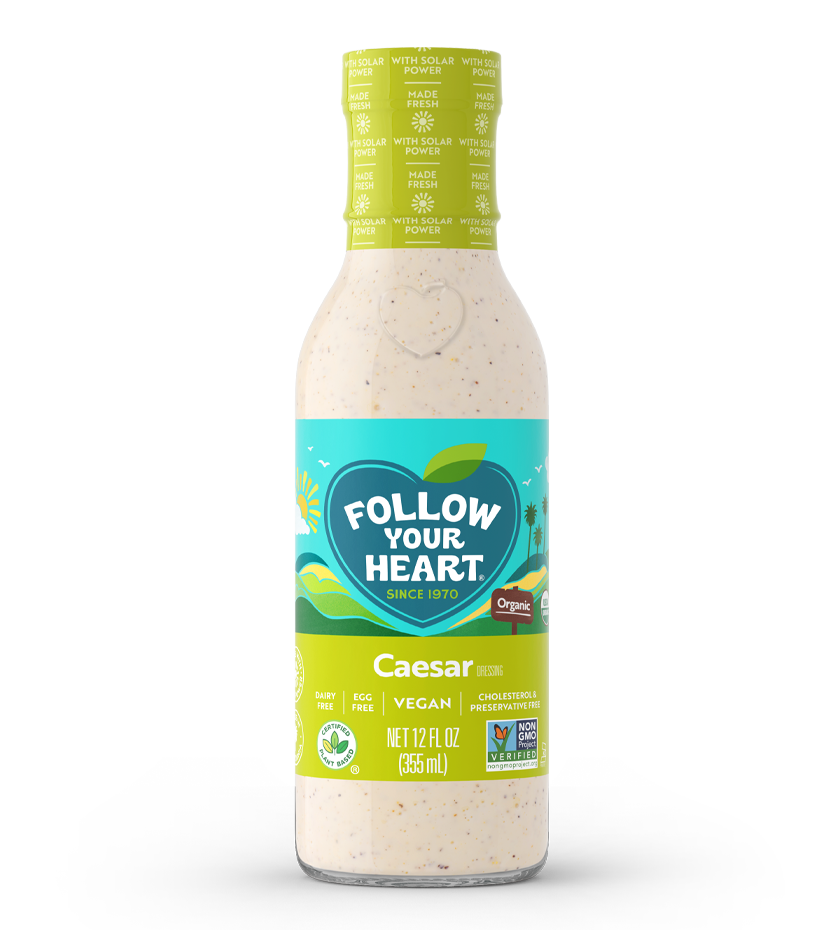 Trader Joe's Vegan Caesar Dressing
While some of Trader Joe's plant-based products aren't truly vegan, this Vegan Caesar Dressing is vegan – and the most affordable store-bought option. Sitting at $3.99 a bottle, this Caesar dressing is "deliciously savory, enticingly peppery, and satisfyingly creamy". This dressing is available in stores at Trader Joe's.
Kaari Creamy Caesar
Kaari Creamy Caesar dressing is vegan-friendly and made from cashews, along with a shortlist of other wholesome ingredients. While it's not Certified USDA Organic, this dressing (or any of their other products) doesn't contain any artificial ingredients or additives. Kaari products can be found on their website, various grocery stores, and Instacart.
Mother Raw Organic Caesar Dressing
Made with 100% cold-pressed extra virgin olive oil and a shortlist of other organic ingredients, this Mother Raw Organic Caesar dressing may have you saying "Hail yeah, Caesar". This brand is Certified USDA Organic and Certified Vegan, while also boasting gluten-free, non-GMO, soy- and canola-free labels. To complete the package, there are also no artificial colors, flavors, or preservatives. This dressing is available online for $6.49.
JUST Caesar Dressing
Now known for more than just their JUST egg product, this dairy-, gluten-, and GMO-free Caesar dressing has a "creamy and sharp" flavor. It's also free from artificial flavors but does have additives like xanthan gum. JUST also doesn't specify the type of sugar used in its ingredients list, so it may not be considered vegan if you don't eat non-organic cane sugar.
DIY
If you like Caesar dressing but aren't loving the store-bought options, make your own dressing! Get creative in the kitchen and whip up your own vegan version of Caesar dressing. There's so many vegan Caesar dressing recipes online.
Vegan Caesar Salads
If you're making your own salad, don't forget to look beyond the dressing and vegan-ize the entire salad! The Parmesan cheese that traditionally comes in the salad will need a vegan swap out. Double-check the croutons used are free from dairy and egg ingredients, too.
If you're at a vegan restaurant, you should be in the clear to enjoy the Caesar salad with no concern of an animal product sneaking its way into the bowl. If you're following a vegan diet and at a non-vegan restaurant, skip the Caesar salad. It's pretty unlikely they'll be able to make their Caesar salad vegan-friendly because of the many animal-based ingredients.
Other Ways to Use Vegan Caesar Dressing
What's the point of using a salad dressing for just salad? Caesar salad dressing is delicious and should be enjoyed outside of a salad. Beyond tossing a Caesar salad, try one of these ways to enjoy this one-of-a-kind dressing.
Veggie Dip
Need a vegan sauce to dip your veggies in? Look no further. Ready to use from the bottle, add a Caesar dressing to your next veggie tray or charcuterie board to elevate the fresh vegetables.
Spread on a Sandwich
Next time you're making a sandwich, add a layer of Caesar dressing to the breading. Switch out your vegan mayonnaise, ketchup, or mustard for dressing. This game-changer brings a creamy texture and a satisfying twist on a standard sandwich topping.
Marinade
Dressing makes a great marinade for baked tofu or vegetables.  Marinading before cooking makes the food more flavorful and worth the effort. Before baking, cover your tofu and/or veggies with Caesar dressing for at least 30 minutes up to overnight.
Other Vegan Salad Dressings
Maybe Caesar dressing isn't for you – that's okay! There are plenty of vegan salad dressings to choose from. Not every salad dressing has to be store-bought with fancy ingredients. Dressings can be as simple as adding some olive oil, balsamic vinaigrette, or a spritz of citrus.
Read more about Vegan Or Not? Unwrapping Hershey's Kisses
Conclusion
Vegan Caesar salads (and dressings) do exist – and can be enjoyed in many ways! Next time you're picking up one of these vegan Caesar dressing brands, try adding it to a sandwich or cooking with it. Comment which brand is your favorite!
Read more about The Best Vegan Mayo Brands and Where To Buy Them