Last Updated on December 13, 2021 by Guillermina
Whether it's a tailgate or late-night snack, having a bag of chips in the kitchen cabinet is a no-brainer. Chip lovers alike know it's important to pick a fan favorite bag of chips to share, with an added bonus if they're vegan. In this article, we're answering the question 'can vegans eat Doritos?' and highlighting similar vegan-friendly chip options.
What Are Doritos?
Crunchy and flavorful, Doritos have been a classic American snack for decades. The name originates from the Spanish word 'doradito', meaning little golden things. These triangular chips are unique and have a fun origin story.
When Disney World opened, they had a Mexican restaurant owned by Frito company, called Casa de Fritos. It's rumored that Doritos were the result of attempting to reduce food waste in the kitchen. Instead of throwing away stale tortillas, Casa de Fritos would fry and turn them into chips.
It may be hard to believe, but the original Doritos flavor was just a plain chip. It wasn't until 1974 that the famous Nacho Cheese flavor hit the markets, and Doritos became an American must-have. Now, there are more than 100 flavors of Doritos – that's a lot!
Flavors Of Doritos
Doritos release new varieties on a pretty frequent basis, making the list of flavors seem endless. With that being said, there are classic flavors that stand out as the most popular. Here's a list of Dorito's flavors currently available on their website:
Nacho Cheese
Cool Ranch
Spicy Sweet Chili
Poppin' Jalapeno
Spicy Nacho
Flamas
Blazin' Buffalo & Ranch
Salsa Verde
Taco
Tapatio
Organic White Cheddar
Organic Spicy White Cheddar
Dinamita – Chile Limon Rolled Tortilla Chips
Flamin' Hot Nacho Cheese
Flamin' Hot Limon
3D Crunch – Spicy Ranch
3D Crunch – Chili Cheese Nacho
Are Doritos Vegan?
So, can vegans eat Doritos? There is only one flavor of Doritos that are considered vegan-friendly. The Spicy Sweet Chili Doritos are mostly free from animal products, except for a few ingredients. Some of these ingredients can be vegan, depending on your personal preferences.
Read more about Spicing Up Fall With Vegan Pumpkin Spice Lattes
Spicy Sweet Chili Doritos Ingredients
With 22 ingredients listed on the bag, dissecting the ingredients list can seem a bit daunting. Most of the ingredients are vegan-friendly, but there are a few to take a closer look at.
Corn
Vegetable Oil (Corn, Canola, and/or Sunflower Oil)
Salt
Sugar
Monosodium Glutamate
Fructose
Sodium Diacetate
Soy Sauce (Soybean, Wheat, Salt)
Onion Powder
Maltodextrin (Made from Corn)
Hydrolyzed Soy Protein
Hydrolyzed Corn Protein
Garlic Powder
Torula Yeast
Malic Acid
Extractives of Paprika
Spices
Caramel Color
Disodium Inosinate
Disodium Guanylate
Dextrose
Natural Flavor
Non-Vegan Ingredients
Sugar
Sugar is the fourth ingredient on the list. Refined cane sugar is processed using bone char, an animal byproduct. Some vegans don't allow it in their diets. Depending on your views, you may allow non-organic sugar in your diet.
Natural Flavors
Vague and mysterious, natural flavors have a wide range of uses in food. These ingredients vary between being parts of fruits, animal products, and everything in between. The 'natural flavors' label in an ingredients list makes it impossible for vegans to tell if a product has animal-based ingredients.
If you're wondering why manufacturers use the natural flavors label, it's a great question. It's a way to summarize the ingredients lists and hide their recipe from competitors. To consumers, it's vague and can be confusing. As time goes on, more consumers are questioning what 'natural flavors' really means.
Doritos Nutrition
For one serving (or 12 chips), there are 140 calories, 18 g carbohydrates, and 7 g fat. Additionally, there is only 2 g protein and 1 g fiber. There is also 270 mg of sodium per serving.
Are Doritos Healthy?
Chips are known to be an unhealthy snack item. After reviewing the nutrition facts and ingredients, Dorito's aren't an exception – even if one flavor is vegan friendly. However, any food can be a part of an overall healthy diet, chips included.
Are Doritos Gluten-Free?
The quick answer: no. Many flavors may not have direct sources of wheat but are processed in facilities where cross-contamination may occur. However, Dorito's Simply Organic White Cheddar Flavored Tortilla Chips are considered gluten-free.
Vegan-friendly Dorito Alternatives
Still craving Doritos but want to stick to a vegan diet? Thankfully, there are a ton of Dorito-inspired vegan chips available. A healthier version of Doritos does exist, and here's five trustworthy (and delicious!) brands to try:
1. Snacklins
These plant crisps are a traditional chip alternative, bringing the "the taste of cheddar cheese with a twist". Vegan, gluten-free, and Non-GMO Project Verified, Snacklins come in both snack-sized and full-sized bags.
2. Thrive Market
These Non-GMO, grain-free tortilla chips are vegan-friendly. Offering the classic triangular shape, these vegan chips come in both a vegan nacho and zesty lime flavor.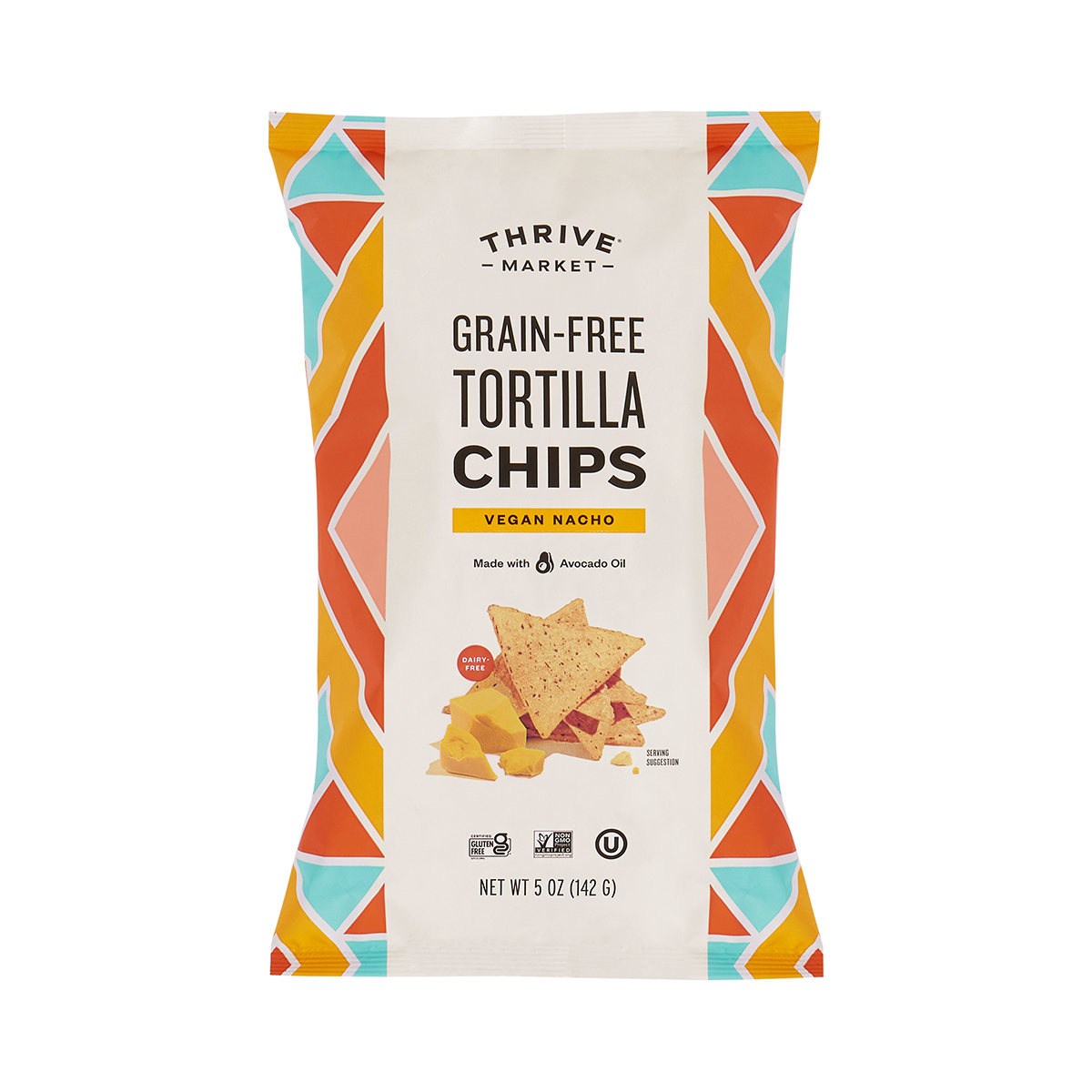 3. Beanfield
Gluten-free vegans, look no further. Beanfield boasts that all flavors of their Bean Chips are vegan, as well as Certified Gluten-Free. Nacho, Sour Cream, and Fiery Hot – choose one or try a variety pack on their website.
4. Siete Foods
Available at some major grocery store chains, Siete Foods checks most of the boxes if you have some ingredients to avoid. Grain-free, vegan, gluten-free, soy-free, and NON-GMO Project Verified – paleo vegans, these chips are for you.
5. Hippeas
Known for their Cheeto-like puffs, Hippeas now has chips. Made from garbanzo beans, these triangular chips are USDA organic, Certified Gluten-free, Kosher, and vegan.
Ways To Enjoy Doritos
Straight from the bag or with a creative twist, Doritos are a fun ingredient. Next time you're hosting, consider some of these ways to use a triangular-shaped chip – or the crumbs at the bottom of the bag.
Dip in guacamole or salsa
Load on a sandwich or wrap
Garnish on a taco salad
Deep-fried
Walking tacos
Substitute for breadcrumbs
Layered bean dip
Top layer of a spicy casserole
Conclusion
Dorito's are a classic brand of chips, especially known for their Nacho Cheese flavor. While most flavors aren't vegan, the Spicy Sweet Chili Doritos are mostly vegan-friendly. If you want something 100% free from animal products, try one of the similar chips from a vegan brand.