Last Updated on October 15, 2021 by Guillermina
Condiments are what makes the world of American food go round – ketchup, mustard, mayonnaise, and beyond. I don't know about you, but regular mayonnaise has always been a little unappetizing to me. When I found where to buy vegan mayonnaise, I was ready to ditch the animal-based condiment for a tasty plant-forward alternative.
What Is Traditional Mayonnaise?
That thick, creamy condiment has a simple list of core ingredients: oil, egg yolks, lemon juice or vinegar, and seasonings. It can range in color from a soft yellow to white. Served cold and uncooked, it has a gel-like texture perfect for dips or sauces.
There are several variations of mayonnaise, including real mayonnaise, Miracle Whip, light mayo, and others. This traditional combination of ingredients with eggs is labeled as "Real Mayonnaise" on containers. Miracle Whip is a low-calorie, cooked alternative to mayonnaise with a similar enough taste and texture.
Why Mayonnaise Is Not Vegan
While it may be dairy-free, the major offender here is eggs. Eggs are found in mayonnaise products across the board, including light mayo and Miracle Whip. Normally eggs are tricky to replace in recipes, however, vegan mayo brands had no issue creating a plant-based alternative.
What Is Vegan Mayo?
A plant-based mayonnaise option, this condiment is free from eggs and other animal products. Made with plant proteins instead of eggs, this vegan-friendly alternative is here to stay. With the increasing popularity of the vegan diet, vegans no longer have to sacrifice mayo.
Is Vegan Mayo Healthy?
Compared to its traditional mayonnaise counterparts, it is definitely a healthier alternative. Free from eggs and animal-based ingredients, vegan mayo won't have any cholesterol. Some brands have added sugars and contain additives, so it's always best to check the label and decide for yourself.
Best Vegan Mayo Brands
Follow Your Heart Veganaise
With the biggest variety of vegan mayo to choose from, listen to the brand's name and know you can't go wrong with Follow Your Heart Veganaise. They are gluten-free, Certified Plant-based, and Non-GMO Project Verified. Their flavors for every occasion include:
Avocado Oil
Chipotle
Grapeseed Oil
Horseradish
Original
Organic
Organic Garlic Aioli
Pesto
Reduced-Fat
Roasted Garlic
Sriracha
Sir Kensington's
Soy- and starch-free, this vegan mayo is made with 100% avocado oil, 100% sunflower oil, and aquafaba (from chickpeas). There are four varieties: Classic, Special Sauce, Avocado Oil, and Chipotle. To seal the deal, Sir Kensington's vegan mayos are Vegan Certified, Non-GMO Project Verified, Kosher, and Keto Certified.
Chosen Foods
While they are not a vegan brand, Chosen Foods offers a vegan option amongst their other non-vegan mayos. Their vegan mayo is avocado oil-based and free from other non-vegan ingredients, like non-organic sugar.
Primal Kitchen
Made with avocado oil and potato protein, Primal Kitchen Vegan Mayo has no added sugar and is best for those on an elimination diet. This vegan mayo has a shortlist of simple ingredients. You won't find any eggs, soy, chickpeas, or canola in this mayo – it's Whole 30 Approved, Paleo- and Keto Certified.
Hellmans
Known for their regular, real mayonnaise, Hellman's followed suit with the plant-based mayo trend to develop their own. However, Hellman's uses non-organic sugar, which is not vegan by some definitions. This may be their only plant-based product at this time but is nevertheless a small step in the right direction.
O'dang
With a small variety of egg-free mayos, these plant-based spreads are made with chickpeas. Original, Roasted Red Pepper, Lemon Garlic, and Cucumber Dill are the current offerings. Of note, O'dang products may not be considered vegan. These plant-based mayos use non-organic cane sugar, which may not be acceptable depending on your definition of vegan.
Good & Gather
Target is at the front of the pack in regard to grocers with an affordable vegan mayo. Good and Gather uses canola and pea protein are two of the main ingredients. It does list non-organic cane sugar in the ingredients, which may not align with your definition of vegan.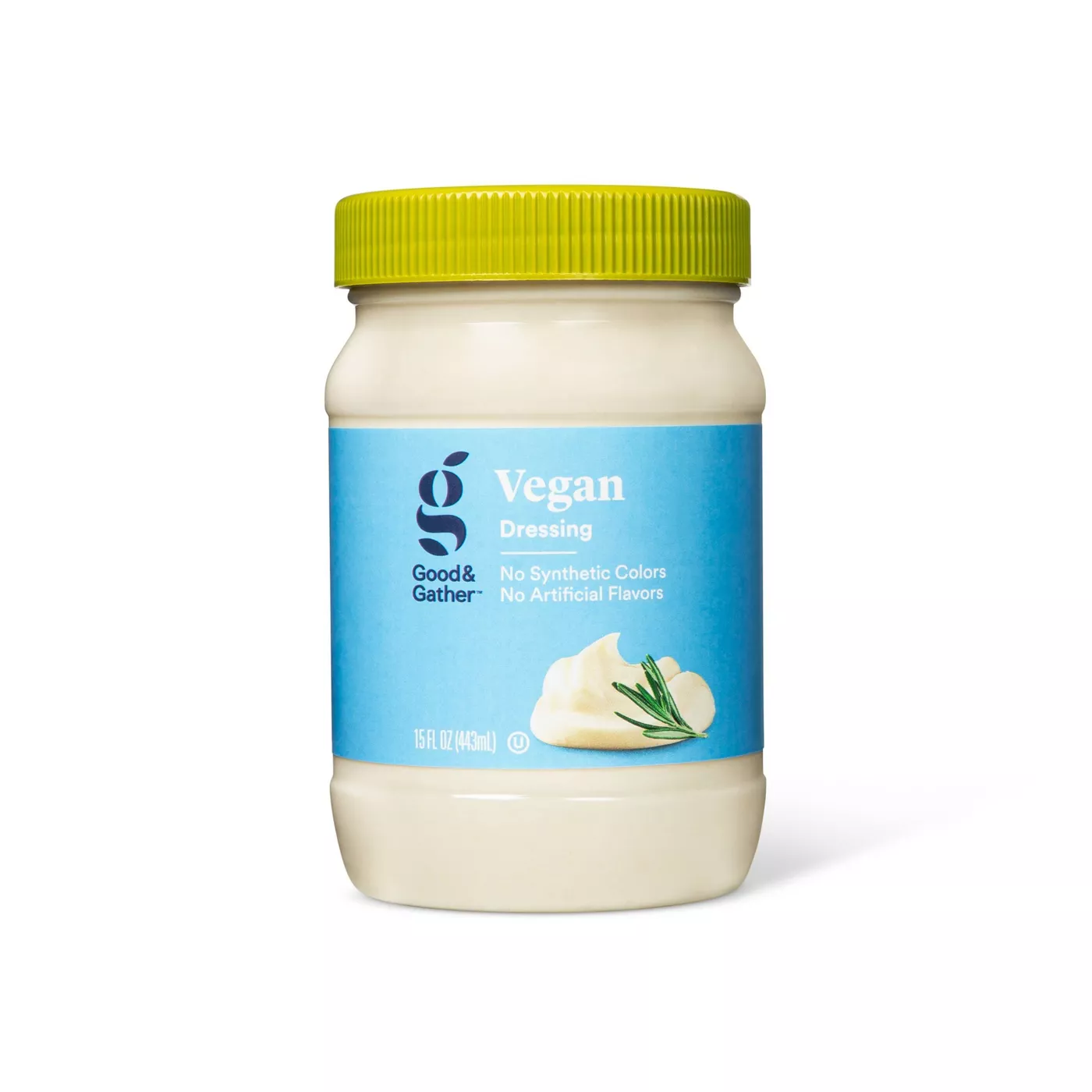 Trader Joe's
Always with a new staple vegan product on the horizons, Trader Joe's just released a reformulated vegan mayo. This vegan mayo option is amongst the cheaper options available.
Read more about 6 Best Vegan Caesar Salad Dressing Brands
Where To Buy Vegan Mayo
With all of these vegan mayo brands out there, you may be wondering how you're going to figure out where to find them. Luckily, vegan mayo is found at many common grocery stores, especially if the store has their own brand of vegan mayo. Visiting the website to search for products is another way to ensure vegan mayo is actually there.
Try stopping at a specialty grocery store if the average grocer doesn't carry it. Places like Whole Foods, Sprouts, and local co-op grocery stores are almost guaranteed to have a vegan mayo on the shelf. Lastly, take a look at your local farmer's market for a small-batch, locally sourced vegan mayo.
Ways To Use Vegan Mayo
Besides on a tasty plant-based sandwich, vegan mayo has a vast number of ways to be used.
Dips and Sauces
Next time you're headed to a party, bring along a plant-based dip made with vegan mayo. Veggies, chips, crackers – you name it. It'll be a crowd-pleaser no matter what kind of diet they follow.
Marinade
Vegan mayo can make a great marinade for baked tofu or vegetables – especially if it's already flavored.  Marinading before cooking makes the food more flavorful and worth the effort. Before baking, cover your tofu and/or veggies with vegan mayo for at least 30 minutes up to overnight.
Baking
When I think of vegan mayo, I'm not thinking about cake. However, there are actually a lot of baking recipes that call for mayo instead of butter. Use vegan mayo in place of butter to get a finer crumb and a moister cake.
Conclusion
Vegan mayo is a plant-based alternative that takes the eggs out of the traditional recipe. There are many vegan mayo brands out there, all with unique ingredients and flavors. It's pretty easy to figure out where to buy vegan mayo, so keep your eye out next time you're at the grocery store!
Read more about Vegan Or Not? Unwrapping Hershey's Kisses