Last Updated on April 8, 2022 by Guillermina
Are you new to the vegan lifestyle and diet? Well, don't you worry a bit now, ya hear? We're going to set you up for success!
So, you may be asking, "Can you cook noodles in chicken broth?". Wondering if it's acceptable as a vegan if there are no obvious signs of meat or "chicken", in this instance, in the broth. Well, the thing is, that when you transition to a vegan diet and lifestyle, you are eliminating all animal-based products and ingredients—that includes chicken broth.
Chicken broth is not considered acceptable for vegans or vegetarians alike to consume as it contains byproducts from the chicken used to make the broth. Now, that doesn't mean you won't be able to make your favorite batch of ramen noodles or pho! There are plenty of vegan-based broth brands out there that are plant-based, organic, and gluten-free all in one batch of flavor to perfection vegan broth.
Take a read below to see what vegan broth options you can replace the chicken broth with and get to cooking your favorite noodle dishes!
Can You Cook Noodles In Chicken Broth?
It's not that cooking noodles in chicken broth aren't possible, it's just not plausible or acceptable as a vegan to use chicken broth to cook vegan-based, animal ingredient-free, foods.
Chicken broth is not considered suitable for vegetarians or vegans, as it utilizes chicken, an animal-based ingredient, to formulate the broth for flavoring and consistency purposes.
Why Is Chicken Broth Not Vegan-Friendly?
Chicken broth is not vegan, nor considered suitable for vegetarians. This is due to the fact that the chicken broth utilizes by-products from chicken, in this case, in the process to make the broth.
Various aspects, or compounds, of the chicken during the cooking process of making the broth, formulate into the liquid and resulting chicken broth. Variables or qualities of the chicken, like the body fluids and other more concrete parts of the chicken's body parts, is accessible for consumption in chicken broth, hence the blatant reason why chicken broth is considered unacceptable for consumption by vegans and vegetarians alike.
Vegan Broth Products
Kettle & Fire, Low-Sodium Vegetable Cooking Broth
Using wholesome ingredients only, Kettle & Fire's Low-Sodium Vegetable Cooking Broth is made with organic mushrooms, leeks, and carrots. The blend of organic vegetables and flavorful yet savory spices boasts a vegan-friendly blend that can be used for soups and other recipes.
Find It Here:
Pacific Foods, Organic Vegetable Broth
A rich vegan broth, Pacific Food's Organic Vegetable Broth is also fat-free and gluten-free. Great for seasoning dressings, sauces, or used to make soups, this Organic Vegetable Broth is boasting minerals, vitamins, and protein!
Find It Here:
Ocean's Halo, Ramen Broth
Perfect for any batch of homemade ramen, Ocean's Halo's Ramen Broth is 100% vegan, organic, and gluten-free! This Ramen Broth is cultured using a Tokyo-style and inspired base that pairs perfectly with noodles, vegetables like mushrooms and green onions, and a vegan protein source like tofu.
Find It Here:
Ocean's Halo, Miso Broth
Looking for something simple yet satisfying to make at home? Miso soup is a wonderfully low-calorie yet highly nutritious meal that is incredibly simple to make in the comfort of your own home. Using only a few ingredients, like this Ocean's Halo Miso Broth, tofu, seaweed, mushrooms, and any other customizable additions, you've got yourself a warm and soothing batch of vegan homemade miso soup!
Find It Here:
Ocean's Halo, Pozole Broth
Ocean's Halo has taken a step forward in the brand's mighty vegan and inspiring creations with this vegan-friendly Pozole Broth. Using a roasted blend of a special blend of spices and organic ancho peppers, this Pozole Broth is undoubtedly savory and flavorful, perfect for a batch of Mexican cuisine-inspired dishes.
Find It Here:
Ocean's Halo, No Chicken Broth
The perfect vegan-based replacement for chicken broth, Ocean's Halo has formulated this No Chicken Broth for this specific purpose! Completely plant-based, gluten-free, and organic, this No Chicken Broth is teeming with bountiful flavor and less sodium than most other common commercial brands of broth.
Find It Here:
Ocean's Halo, Thai Coconut Broth
Ocean's Halo isn't playing games when it comes to the endless creations of their vegan, gluten-free, and organic broths! This Thai Coconut Broth was designed to be the perfect step-eliminator when it comes to the creation of popular Thai dishes like curry and Tom Kha Gai. It's time to get cooking your favorite Thai dishes at home with Ocean's Halo's Thai Coconut Broth!
Find It Here: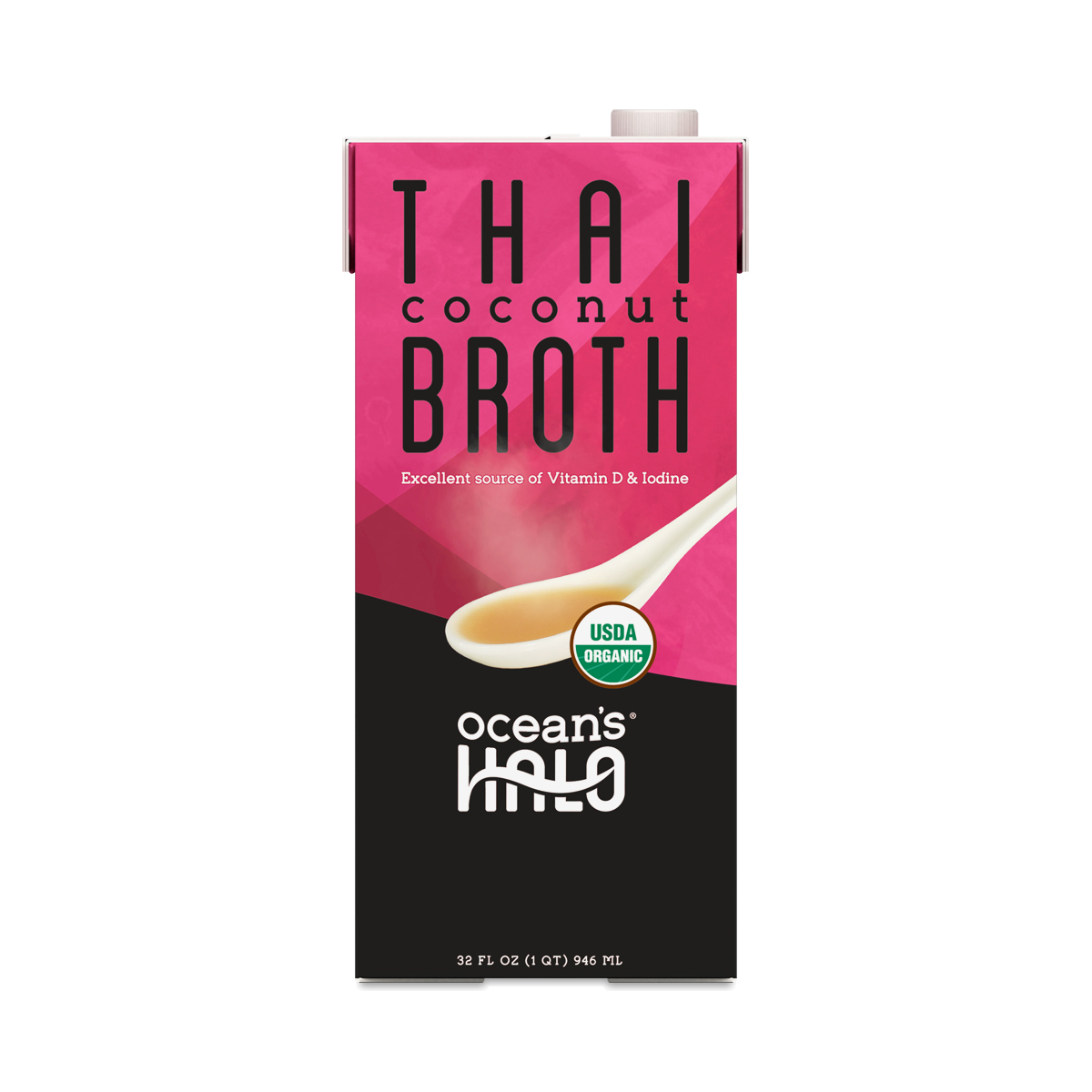 OM, Mighty Mushroom Broth
The understandably well-known and lovable brand, OM, grows its own organic superfood fungi at their indoor California farms in order to serve the complete and boastful nutrients provided by mushrooms. Giving this Mighty Mushroom Broth an unrivaled value with OM's dedication to its customers, this vegan broth is also gluten-free, kosher, and organic!
In addition, consumers will note that in each serving of this Mighty Mushroom Broth by OM is 22 amino acids (which means it serves all of the available amino acids!). You'll get a taste of king trumpet, lion's mane, maitake, turkey tail, shiitake, and reishi mushrooms in this distinguishable batch of Mighty Mushroom Broth.
Find It Here:
Conclusion
Did you find this article informative? Make sure to leave a comment below to tell us what you think or if you have any questions. Don't forget to share this informative article on "Can You Cook Noodles In Chicken Broth?".
Tag us on social media to show us which vegan alternative broth brand to chicken broth you picked and what recipe you used it for! Make sure to share this article and its inclusive information on why chicken broth isn't vegan-friendly along with additional vegan-based broth alternatives, with a friend or family member to spread the love (and the vegan broth alternatives)!
FAQs
Cooking pasta in chicken broth
For vegans, cooking pasta in chicken broth is not acceptable as the broth contains byproducts from the chicken used in the process to make the broth.
What happens if you boil pasta in chicken broth?
As the pasta boils in the chicken broth it absorbs the flavors provided to it by the chicken broth, then will proceed to lose starch that thickens the broth.
Is it bad to cook noodles in soup?
It's not bad to cook noodles in soup, just make sure to cook the noodles for the recommended time or the noodles will become soggy.
Do Vegans eat chicken broth?
They do not. Chicken broth is an animal-based ingredient and contains byproducts from chicken.