Last Updated on November 13, 2021 by Guillermina
Introduction
Finding a vegan substitute for ricotta cheese can be stressful when you don't know where to start. That's why I've created a list of helpful vegan ricotta cheese substitutes to make your life easier and eliminate unnecessary stress, all while being able to enjoy vegan ricotta cheese alternatives!
Ricotta is a versatile cheese but is most commonly known for its inclusion in lasagna recipes. But don't let that stop you from enjoying it with your favorite snacks and foods! We've compiled a list of common ricotta cheese combinations, while also providing ricotta cheese alternatives that are vegan-friendly and ridiculously delicious. 
What Is Ricotta Cheese?
A versatile cheese, ricotta is notoriously made using different types of milk—cow, sheep, goats, even water buffalo! That helps us vegans in defending our right to use nuts and tofu to make ricotta. We, vegans, have our facts straight!
Interestingly enough, "ricotta" an Italian word, translates to "recooked" in English. An in-depth process is used in cheese-making to get what we call "ricotta", though, for vegan ricotta substitutes, the process is obviously pretty different than when using animal products.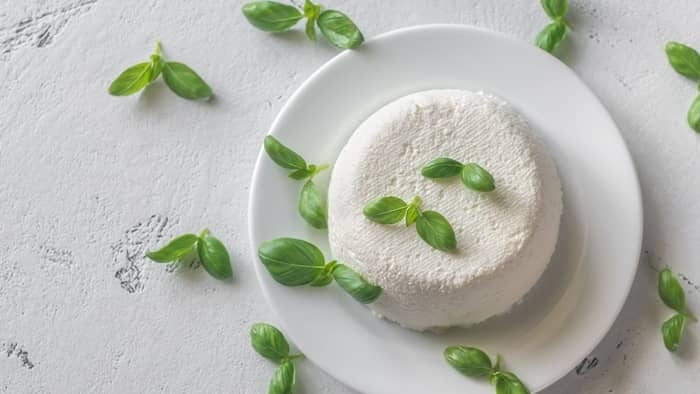 Ricotta contains a bunch of moisture from the process of its creation, which is what makes a big difference between ricotta and feta, which is much drier. Fun fact–the more moist a cheese, the fresher, and the drier a cheese is, the more aged it is. 
7 Common Uses For Ricotta
Lasagna
The most common usage for ricotta cheese, lasagna is a household favorite. If you've been waiting to enjoy lasagna until you researched vegan ricotta cheese substitutes, this is your sign to make some lasagna using the vegan ricotta cheese substitutes we've recommended!
Charcuterie Boards
Currently, on the run with popularity, ricotta goes great paired with charcuterie boards. Add vegan ricotta to charcuterie boards to improve flavor. Combined with other vegan cheeses, meats, bread, jams, crackers, nuts, fruits, and more. Use one of the vegan ricotta substitutes we've provided below with your next charcuterie board!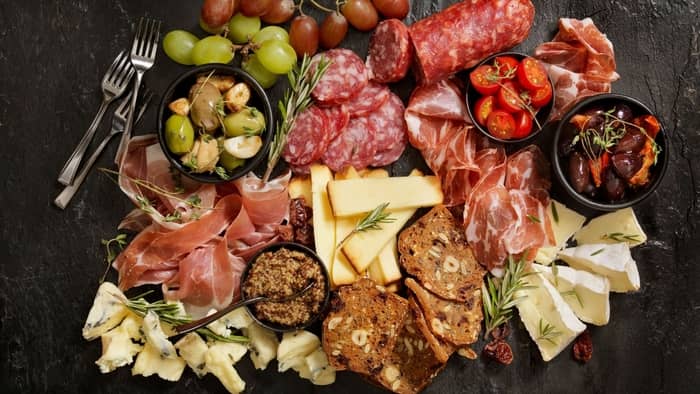 Salad
Top your salad with vegan ricotta cheese! Use an olive oil base, mixed with arugula, olives, cherry tomatoes, and even drizzle with balsamic vinegar to get that rich, yummy taste that has you coming back for more. 
Pancakes
I know this might seem crazy to think of pairing pancakes with ricotta, but hear me out. Rather than topping pancakes with ricotta, add the ricotta to the pancake batter. Since ricotta holds more moisture than other cheeses, it makes for some extra-fluffy pancakes. Save this recipe idea for the next batch of pancakes for the weekend!
Cheesecake
If you like cheesecake, you'll be a sucker for this combo. Adding vegan ricotta to cheesecake adds a lighter texture than usual recipes and you can pair it with any flavor of cheesecake you desire! 
Ricotta Frittata
Thanks to vegan egg substitute brands like JustEgg, vegans can enjoy recipes like frittata still! Add the vegan ricotta of your choosing to your frittata recipe, and you have a high protein and highly flavorful breakfast to start your day off right. 
Quiche
Another great breakfast meal, using JustEgg vegan egg substitute and vegan ricotta, using the ricotta substitute of your choosing, makes for a light, quiche that makes breakfast the best start to your day. 
Top 5 Vegan Substitutes For Ricotta Cheese
Tofu "Ricotta" Cheese
Finding a quick, easy replacement for ricotta cheese for a recipe can be difficult, especially when your local grocery stores don't hold any vegan ricotta cheese. Thankfully, most grocery stores carry tofu, which is a versatile product used in many different forms and recipes.
If you don't wish to combine the ingredients by hand, using a handy-dandy food processor makes a recipe for Tofu "Ricotta" Cheese even more simple and effortless.  
Almond Ricotta
In the vegan world, using nuts to create dips, sauces, dressings, and the like is not uncommon. The same goes for Almond Ricotta, made using blanched almonds.
Almonds contain healthy fats and calories, making them a great replacement for processed ricotta cheese alternatives. A recipe for almond ricotta is altogether simple. It requires boiling the blanched almonds for 10 minutes, then, once the almonds have been drained and rinsed using cold water, combining the total of ingredients in a blender or food processor. The final result is delicious, vegan, nutty almond ricotta.
Tofutti's Better Than Ricotta Cheese
If you've never had Tofutti's products, then I must say—you're missing out. Tofutti's Better Than Ricotta Cheese is vegan, free from animal products, and is also gluten-free.
Tofutti manages to wow the world with its wide range of vegan products, making it even easier to not miss out on animal-based products. If you're looking for a vegan ricotta cheese alternative you have to try Tofutti's disconcertingly similar Better Than Ricotta Cheese. 
Kite Hill's Almond Milk Ricotta Alternative
Made with almond milk, Kite Hill's Almond Milk Ricotta Alternative is creamy, silky, and animal-product-free Great for homemade lasagna it is made using only five ingredients! 
Kite Hill boasts products with strict consumer standards, providing buyers with non-GMO products that are artificial preservative-free. For those that have gluten and soy allergies, Kite HIll's Almond Milk Ricotta Alternative is a great replacement for iffy brands that struggle with cross-contamination allergen standards. This product is gluten-free, soy-free, and best of all—vegan! 
Violife Just Like Feta
I know, I know! That says "feta" not "ricotta"! Work with me here, there are only so many vegan ricotta brands out there and this Violife Just Like Feta is delicious! It's scary how similar it tastes to actual feta. I couldn't hold back listing it as a ricotta alternative.
They might technically be completely different types of "cheese", but you gotta try this Violife Just Like Feta on homemade pizza. Your tastebuds will thank you, I promise! 
Conclusion
Did you find this article informative? Make sure to leave a comment below to tell us what you think or if you have any questions. Don't forget to share this informative article on Vegan Substitutes for Ricotta Cheese and tag us on social media showing the ricotta cheese substitute of your choosing! 
Try out one of the vegan ricotta cheese substitutes we've provided with the recipe of your choice and let us know how it turned out. Combined with the common usages like lasagna, quiches, charcuterie boards, and frittatas, or less common ones, like pancake batter, ricotta is a versatile cheese that, thanks to vegan alternatives, can be thoroughly enjoyed without consuming any animal products.