Last Updated on January 17, 2022 by Guillermina
Are there dairy-free pancakes? What about almond milk pancakes? Let's shout it to the world…ready? There are vegan pancakes!!!!
It is not impossible to make foods we enjoyed through childhood. There are even vegan versions of ethnic cuisines that have been conjured up to bring back childhood and family favorites! Pancakes are one of those American breakfast favorites, especially on weekends or special occasions and holidays, that fill you up so quickly and make your sense of smell quiver in pleasure when you get that first whiff of that fresh batch of homemade pancakes.
At the bottom of this article, we've provided an Almond Milk Pancakes recipe for those that wish to enjoy some fresh vegan homemade pancakes at home. Not a big fan of making things from scratch? We've also provided some of our favorite vegan-friendly pancake mix brands and almond milk brands! 
3 Vegan Pancake Mix Brands
Purely Elizabeth, Grain-Free Pancake Mix 
For those out there that are vegan and gluten-free, this Grain-Free Pancake Mix by Purely Elizabeth is perfect for you! It's certified gluten-free, non-GMO, vegan, while also being high in protein and fiber. 
Find It Here:
Simple Mills, No Sugar Added Organic Pancake & Waffle Mix 
Made using chestnuts, popular for their fiber and micronutrients, this No Sugar Added Organic Pancake & Waffle Mix by Simple Mills is gluten-free and vegan! It is made using a combination of coconut flour, almond flour, and chestnut flour—all organic, too! There is no sugar added to this delicious treat (that'll be up to you!). 
Find It Here:
Thrive Market, Organic Protein Pancake & Waffle Mix 
For all the plant-powered fitness people out there, this one is for you! Thrive Market has introduced their Organic Protein Pancake & Waffle Mix that is made using a combination of chickpea powder and pea powder. It is gluten-free and vegan, packing 11g of protein in each serving. 
Find It Here:
3 Vegan Almond Milk Brands
Blue Diamond, Unsweetened Original Almond Milk
Only 30 calories in each serving, Blue Diamond's Unsweetened Original Almond Milk is vegan, keto-friendly, and kosher. It is great as an additive for baking or mixtures like pancakes, brownies, muffins, and more. 
Find It Here: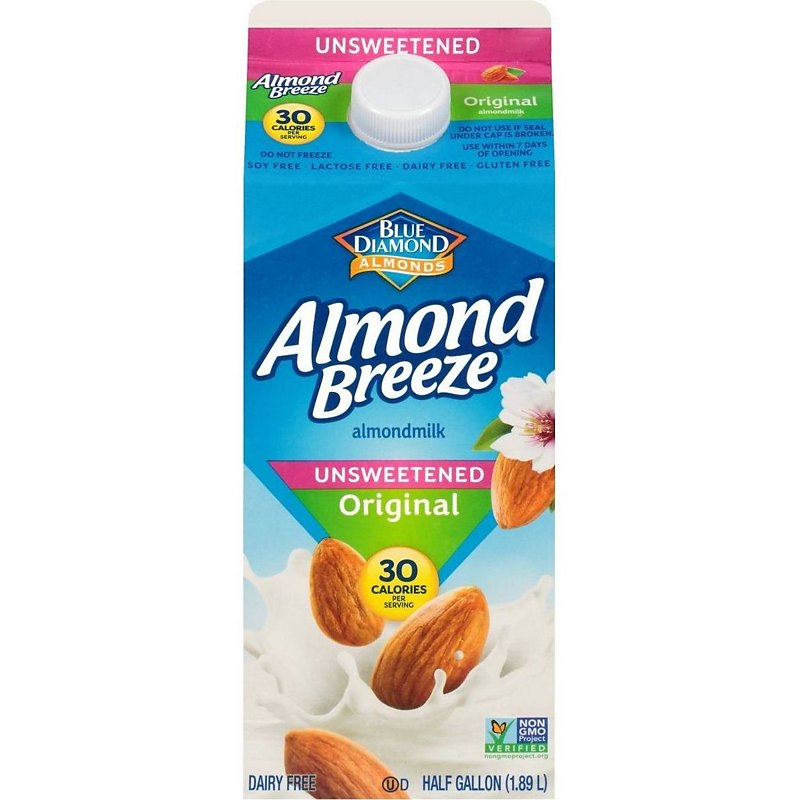 New Barn, Unsweetened Almond Milk
Organic and unsweetened, New Barn's Unsweetened Almond Milk goes great in coffee, baked goods, and cereal. It is certified gluten-free, vegan, kosher, keto-friendly, and paleo-friendly. 
Find It Here:
Califa Farms, Unsweetened Vanilla Almond Milk
With 40% more calcium than dairy milk, Califa Farms' Unsweetened Vanilla Almond Milk is ready for battle! Gluten-free, soy-free, dairy-free, and vegan, this almond milk is a healthy alternative to dairy milk and goes great as a substitute in pancake batter! 
Find It Here:
What You Will Need To Make Pancakes With Almond Milk
This Almond Milk Pancake recipe is great for lazy weekends or to welcome family visiting! Easily adjustable with the additions of fruits, nuts, chocolate chips, and more in the pancake batter, make sure to share this recipe with friends and family! 
Ingredients:
¾ Cup + 1 Tablespoon Almond Milk

1 Teaspoon Vanilla Extract

½ Teaspoon Salt

½ Teaspoon Baking Soda

2 Teaspoons Baking Powder

2 Tablespoons Pure Cane Sugar

1 Cup All-Purpose Flour
Equipment:
Oil Spray (To Grease Skillet)

Spatula (To Flip and Scoop Out Pancakes)

Whisk

Skillet

Measuring Cup

Measuring Utensils

Mixing Bowl 

Large Spoon (To Dish Out Pancake Mix)
Step By Step Instructions
Step 1: Prepare Ingredients
Using the mixing bowl, about medium to large-sized, measure out the salt, baking powder, flour, and baking soda into the bowl. Mix the ingredients until combined. 
Step 2: Preheat The Skillet
To save time while preparing the ingredients preheat the skillet. Set it at medium heat and spray with oil spray to lightly grease the skillet. 
Step 3: Measure The Liquid Ingredients
While the skillet is preheating, measure out the liquid ingredients—the almond milk and the vanilla extract. Combine in the mixing bowl with the dry ingredients. Mix until thoroughly combined. 
Step 4: Pour Measured Batter Into Heated Skillet
Measure out the thoroughly mixed and combined pancake batter and pour in the heated and greased skillet. Cook anywhere from 3-4 minutes until small bubbles start to appear on the top of the pancakes. When you notice the air bubbles, it's time to flip the pancakes using the spatula to cook the other side. 
Step 5: Reduce The Heat
Reduce the heat to medium-low when cooking the other sides of the pancakes so as not to burn the pancakes. You want a golden brown color to your pancakes, or to your preference, before taking the pancakes out of the skillet using the spatula. 
Step 6: Enjoy!
Once you've cooked the desired amount of pancakes, enjoy with your favorite toppings! 
Tips and Tricks
Interested in adding a bit of flavor to your pancakes? If you like fruit in your pancakes, simply add blueberries, strawberries—whatever your fruity preference is!–to the pancake batter to mix. Then, cook in the skillet!
The same goes for any other taste preferences! If you like chocolate chips or nuts in your pancakes, you can simply add them to the batter before cooking them in the skillet!
Only going to eat so many pancakes at a time? Save the batter for another day! Make your desired amount of pancakes and save the pancake batter by placing it in an air-tight Tupperware container and placing it in the fridge until ready to use! 
Servings And Preparation Time
| | | |
| --- | --- | --- |
| Preparation Time  | Cook Time | Servings |
| 5-10 Minutes | 20 Minutes | 6 |
Conclusion
Did you enjoy this recipe? Make sure to leave a comment below to tell us what you think or if you have any questions. Don't forget to share this informational guide "Can You Use Almond Milk For Pancakes?" and tag us on social media! 
We would love to see your finished golden brown pancakes. Tell us which vegan pancake mix you use and how your Almond Milk Pancakes turned out!