Last Updated on December 31, 2021 by Guillermina
Introduction
Are chips vegan? And more importantly, are potato chips vegan? The answer is yes—but be cautious, there are certain flavors of potato chips that are not vegan-friendly. Think flavors like "Sour Cream & Onion" or cheesy flavors like "Aged White Cheddar". As a vegan, it should be recommended to double-check the ingredients list of a product to check for any hidden ingredients not listed in the allergen information. Occasionally, you'll find that not all ingredients list will put their allergens in bold to catch the eye. Some will even contain milk-derived ingredients but say at the bottom, "DOES NOT CONTAIN MILK".
There are many vegan chips, healthy and some not so healthy, that can be enjoyed in the context of being vegan-friendly. In this article, I've provided examples and links to both.
Why Are Some Potato Chips Not Vegan?
Though the base of potato chips comes from, well, a potato, you'd think that potato chips would be safe for vegans to consume without eating any animal-based ingredients. That wholly depends on the flavor, and occasionally the brand, of potato chips. Flavors that obviously involve milk, like "Farmstand Ranch", or others that contain cheese in the flavor title, "French Cheese", are pretty big signifiers of the inclusion of animal-based ingredients used to create the flavor of potato chips. You'll find that even some other flavors, like "Sea Salt & Vinegar", can contain dairy in the ingredients. It depends on the brands, but checking the ingredients list is essential in sticking to a vegan-based diet.
Vegan Potato Chip Brands
Lays, Classic Potato Chips
These Lays Classic Potato Chips are everywhere! I'm talking gas stations, field trips, hockey games, and at church. They also happen to be vegan-friendly! Since these chips are legitimately everywhere—Big Brother?—-they make the perfect snack for situations calling for a needed treat or food.
You can find it here:
Kettle Brand, Potato Chips, Sea Salt
We all know that Kettle chips pack an amazing crunch in each bite that has you coming back for more. Good thing these Kettle Brand Sea Salt Potato Chips are vegan! You don't have to worry about any hidden animal ingredients in these crunchy chips, so enjoy each crispy and crunchy bite!
You can find it here:
Pringles, Original Potato Crisps
Known for their packaging (and filling up the whole container, unlike some air-filled potato chip bags!), Pringles Original Potato Crisps are vegan-friendly! It is important to note that although these Pringle's Original Potato Crisps are vegan, they do contain artificial ingredients and preservatives. For a simple flavor as just plain "potato chips" or, in this case, "potato crisps", there should be a maximum of three ingredients. These potato crips have nine ingredients…including artificial ingredients and preservatives. Continuing in this article, you'll note that I've added healthier vegan alternatives to potato chip brands that contain artificial ingredients, preservatives, and colors. Check them out before having unhealthy chips like these!
You can find it here:
Terra, Original Sea Salt Vegetable Chips
Switching up the potato chip game a bit, Terra has created these Original Sea Salt Vegetable Chips using root vegetables like yucca, parsnips, sweet potato, and taro. All of these root vegetables are incredibly healthy and nutritious, but it is important to note that you are eating these vegetables in fried form so they will lose a majority of their nutritional value.
You can find it here:
Healthy Vegan Alternatives To Potato Chips
The Good Crisp Company, Classic Original Crisps
The Good Crisp Company has created these Classic Original Crisps that are designed to be similar to Pringles Potato Crisps only healthier and allergen-friendly. These Classic Original Crisps are vegan, gluten-free, and made using non-GMO ingredients that don't contain any artificial additives. Compared to Pringle's nine ingredients used to make their Original Potato Crisps, The Good Crisp Company utilizes only six ingredients that are all non-GMO. Ingredients like: Dried Potatoes, RSPO Sustainable Palm Oil (Vitamin E), Tapioca Starch, Salt, Sugar, and White Pepper. More natural ingredients compared to Pringle's which utilizes ingredients like maltodextrin, and mono- and diglycerides.
You can find it here:
Thrive Market, Non-GMO Avocado Oil Potato Chips, BBQ
A truly healthy and delicious vegan alternative to brands that soak, crisp, and flavor their potato chips with artificial flavors, preservatives, and colors, Thrive Market's Non-GMO Avocado Oil Potato Chips BBQ are one for the books. Using non-GMO ingredients, these BBQ chips are savory with the perfect amount of crunch in each bite.
You can find it here:
Late July, Organic Thin & Crispy Potato Chips, Simple as Sea Salt
Late July's Organic Thin & Crispy Potato Chips flavored as Simple as Sea Salt, are completely organic and just as tasty as other potato chip brands. Perfect for your favorite dips or paired with your favorite vegan burger combo, these chips are a great healthy vegan alternative to processed potato chips.
You can find it here:
Spudlove, Organic Thick-Cut Potato Chips, Jalapeño
These Jalapeño-flavored Organic Thick-Cut Potato Chips by Spudlove are not only vegan but gluten-free too! These chips are also great for anyone that is gluten-free, making these chips seasoned with jalapeño perfect for potluck or family occasions. All in all, these thick-cut potato chips are a perfectly healthy, vegan alternative to processed chip brands like Lays as these chips are not only Organic but non-GMO to boot!
You can find it here: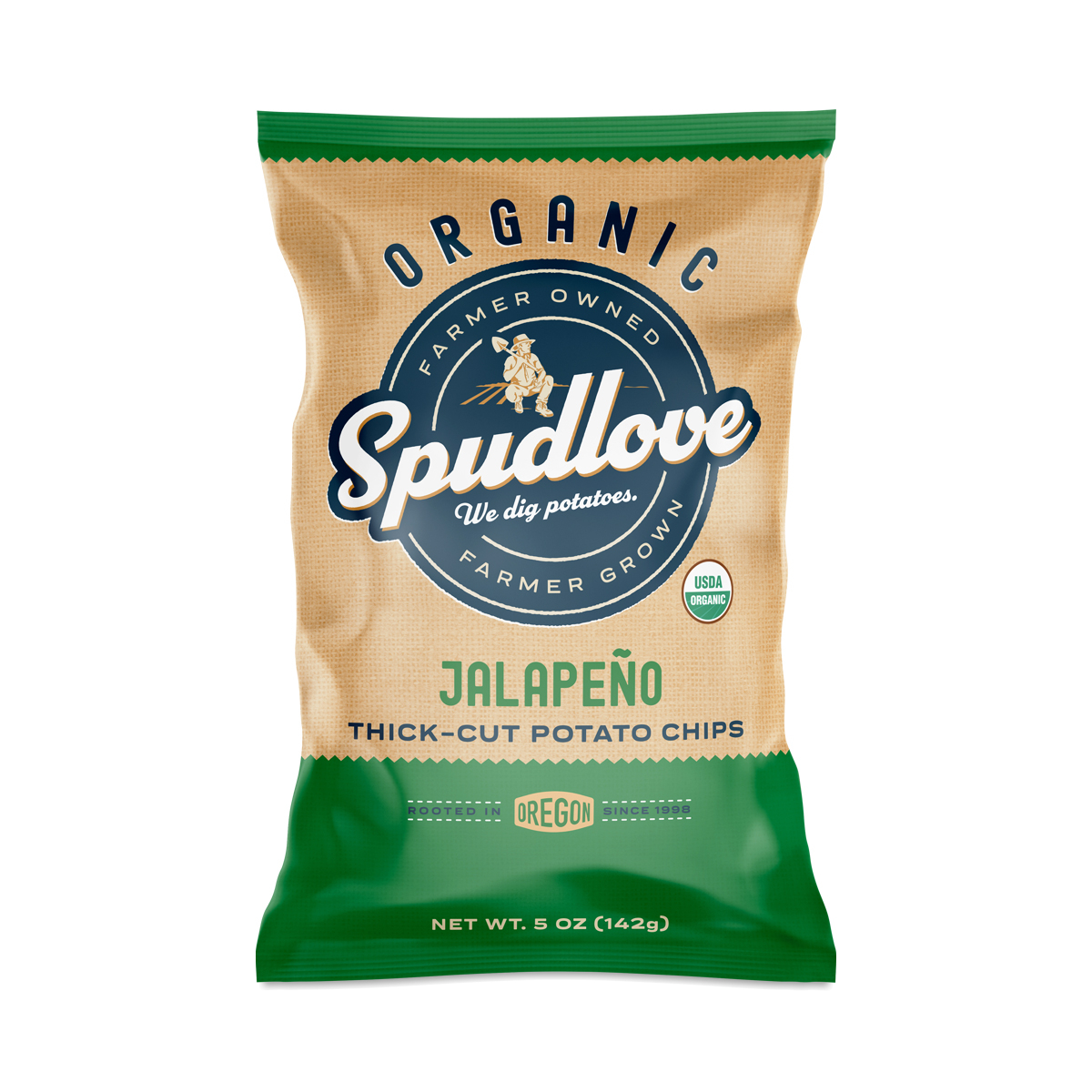 Conclusion
Did you find this article informative? Make sure to leave a comment below to tell us what you think or if you have any questions. Don't forget to share this informative article on answering the question, "Can Vegans Eat Potato Chips?".
Tag us on social media to show us which potato chip brand you ended up choosing!